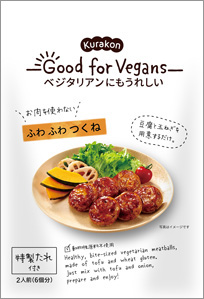 Fluffy Fu and Tofu Meatball
For meatballs made with fu (wheat gluten), tofu, konbu seaweed, and onion. Enjoy the moreish flavor of a special sweet and spicy soy sauce-based relish and the fluffy texture of the burgers.
Direction
Ingrediens
1/3 of a block of tofu (about 100 grams)
1/4 onion (about 50 grams)
1 tablespoon olive oil
Preparation

Lightly crush the fu inside the pouch with your hands from outside the pouch.

Finely chop the onion, generously pour some olive oil into a preheated frying pan, and cook the onions.

① Mix

Place the tofu (discard the water from the pack), crushed fu, and cooked onions in a bowl, and mix together with your hands until evenly combined.
*There is no need to drain the tofu.

② Form

Divide ①into six equal portions and form each portion into a ball.

③ Grill

Pour 1 tablespoon of olive oil into a preheated frying pan and place ② in the pan. Cover with the frying pan lid and cook until it is evenly golden brown. Glaze with the special relish and they are ready to eat.
* Use up in one go once opened.
* Be careful with the fire while cooking.
Product info
Package may differ due to renewal of the package. Please check the package for up-to-date information.
Suggested retail price
390 yen (Tax excluded)
Net Weight
65g
Product size
220×150×30mm
Shelf Life
240 Days
Ingredients
Sauce: Soy sauce (contains soy and wheat; made in Japan), brown sugar, refined sake, starch, salt.
Ingredients: bread crumbs (contains wheat), wheat gluten (contains wheat), kombu seaweed, brewed vinegar
Allergen Info
See below for 28 allergens specified by the Food Labeling Act.

Does not contain

Egg, Milk, Shrimp, Crab, Buckwheat, Peanut, Almond, Abalone, Squid, Salmon roe, Orange, Cashew nut, Kiwi, Beef, Walnut, Sesame, Salmon, Mackerel, Chicken, Banana, Pork, Matsutake mushroom, Peach, Japanese Mountain Yam, Apple, Gelatin

Nutrition Facts
per bag [65g]

| | | |
| --- | --- | --- |
| Calories | 133 | kcal |
| Protein | 5.2 | g |
| Fat | 1.0 | g |
| Total Carbohydrates | 26.3 | g |
|   Sugars | 25.3 | g |
|   Dietary Fiber | 1.0 | g |
| Sodium chloride equivalent | 2.8 | g |

*The values shown are estimated values.